http://national-express-malaysia.blogspot.com/2008/11/bala-u-turn-and-raja-no-turn.html
I was told that Raja Petra is working on a second Statutory Declaration or Affidavit in preparation for his trial that will confirm many things not said in the first Statutory Declaration -- which is the basis of his criminal defamation charge. The second Affidavit will be naming names of very senior personalities who walk in the corridors of power and who hold titles such as Tun and Tan Sri.

The Pink Panther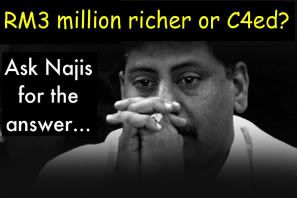 The following news item titled 'Missing PI and blogger figure in Altantuya murder trial' was published in The Malaysian Insider today. Malaysia Today's new The Corridors of Power columnist -- who has taken over this column, together with M. Bakri Musa who started writing for this column soon after Raja Petra was detained under ISA -- talks about what is really behind the missing private investigator mystery.
Missing PI and blogger figure in Altantuya murder trial

The Malaysian Insider

A missing private investigator and a blogger, both of whom had implicated Deputy Premier Datuk Seri Najib Razak in the case of a murdered Mongolian woman, are being sought as defence witnesses in the trial. The case could become a political hot potato when it resumes in January, as investigator P. Balasubramaniam and blogger Raja Petra Kamarudin have made controversial allegations about Najib and the victim, Altantuya Shaariibuu.

Balasubramaniam had alleged that Najib had sexual relations with her, while Raja Petra claimed that Najib's wife was present when Altantuya's body was blown up with explosives. Her remains were found in a jungle clearing outside Kuala Lumpur in 2006.

This case, with its brew of politics, sex and murder, gripped Malaysia after the Deputy Premier's close associate, Abdul Razak Baginda, was charged with instructing two policemen to kill Altantuya. Abdul Razak, who said Altantuya was his former lover, was acquitted recently but policemen Sirul Azhar Umar and Azilah Hadri have been ordered to make their defence.

Najib, expected to become Malaysia's premier next March, has repeatedly denied knowing Altantuya but the scandal has continued to dog him. His Umno party has stood solidly behind him. When its divisions completed making their nominations for the party presidency last weekend, they overwhelmingly chose Najib except for one other nominee, Kelantan prince Tengku Razaleigh Hamzah. So far, there has been no proof to link Najib to this case.

Balasubramaniam has been missing for the last few months since he retracted the allegations he made against Najib. "The investigating officer has said he is trying to trace where he is. We do not know his whereabouts," defence lawyer Kamarul Hisham, who represents Sirul Azhar, told the court yesterday.

He also said he wants Raja Petra to testify about his statutory declaration in which he claimed that Najib's wife, Rosmah Mansor, was present when explosives were placed on Altantuya. He said he was trying to contact the blogger, who was released last week after being detained under the Internal Security Act. Raja Petra was in another court yesterday, facing a sedition charge over a blog posting implicating Najib in the Altantuya case.

Lawyer Hazman Ahmad, who represents Azilah, plans to call Najib's senior security aide as a witness. According to court evidence, it was the aide, Musa Safri, who introduced Azilah to Abdul Razak after the latter sought his help, saying that Ms Altantuya had been harassing him. Neither Najib nor Abdul Razak are expected to be called as a witness.

The lead prosecutor, Tun Majid Hamzah, said that the prosecution has up to Friday to file an appeal against the acquittal of Abdul Razak. It has not decided whether to do so.
*********************************************************

As much as they are trying to suggest that Bala 'U-turn' is 'missing', and some say he is in hiding in India, the truth is he is very much in Malaysia; at Bukit Tinggi to be exact. At least this is what my 'little bird' tells me. And if you want to know exactly where in Bukit Tinggi he is hiding, then ask the man whom I will, at this point of time, call 'the Indian Carpet-man'.

Yes, that's right, the 'Indian Carpet-man' knows where Bala 'U-turn' is hiding because he is the one who is hiding the missing private investigator in Bukit Tinggi. And he has paid Bala 'U-turn' RM3 million to remain in hiding until further notice.

The 'Indian Carpet-man', who I shall certainly name in due course when the time is right, works for Rosmah Mansor, the wife of Deputy Prime Minister Najib Tun Razak. The 'Indian Carpet-man' is Rosmah's 'bagman' and he is in charge of carrying hard cash to and from the Deputy Prime Minister's house in Jalan Duta. He of course makes a lot more money acting as Rosmah's 'bagman' compared to selling carpets and could easily pass as a Bollywood star to those who did not know any better.

The latest news is that later today the AG's Chambers is going to subpoena Raja Petra's lawyer, J. Chandra, to testify in court in Raja Petra's criminal defamation trial. This is a sneaky move to disqualify Chandra from acting as Raja Petra's lawyer in his trial, which will commence on 24th November 2008. As for Raja Petra, it is not known yet if he is going to be subpeonaed to testify in the Altantuya murder trial and whether he is going to be a hostile witness, which therefore may actually jeopardise Sirul and Azilah's case and strengthen the prosecution's case against them. It makes one wonder whether Sirul's and Azilah's lawyer are acting for their clients or for the prosecution.

Raja Petra cheekily said that he will agree to testify in the trial only if Sirul and Azilah publicly apologise for threatening him when he spent three days in the Sungai Buloh Prison. Sirul and Aziah deny threatening Raja Petra who insists that it was made in front of a very senior prison officer named Thana. Thana, in fact, phoned Raja Petra's wife, Marina, and asked her to come to the prison to try to persuade Raja Petra to accept bail and leave prison because they were worried about his safety. Marina, in tears, begged Raja Petra to agree to bail and the sight of his wife crying away softened him and prompted him to agree to bail.

I was told that Raja Petra is working on a second Statutory Declaration or Affidavit in preparation for his trial that will confirm many things not said in the first Statutory Declaration -- which is the basis of his criminal defamation charge. The second Affidavit will be naming names of very senior personalities who walk in the corridors of power and who hold titles such as Tun and Tan Sri. Raja Petra appears to be going for broke and seems bent on bringing down as many people with him as he possibly can if he were to suffer a fall.

When the press asked him, minutes after he was released from ISA detention last Friday, his opinion with regards to Najib taking over as Prime Minister in March 2009, Raja Petra replied with confidence, and of course very cheekily, that he does not care about Najib taking over in March 2009 because Anwar Ibrahim will instead be taking over in December 2008. Was he just being cheeky or does he know something the rest of us do not?

Just as we thought the plot had already thickened it thickens even more. I, for one, can't wait to name the 'Indian Carpet-man' but you will have to remain patient a while longer while we see how the 'other side' reacts before I throw one more card onto the table. And this card will certainly not be the Joker from the pack but a very strong Ace that is going to make the Altantuya murder trial more interesting than it already is.